New Twists Abound in Surfacing Trends
Yet another trends list?? Well…yes. Because we haven't seen one that covers our unique niche. We're taking a look at decorative surfacing trends for the hospitality industry — what we're seeing on furniture, fixtures, walls and more at restaurants and hotels across the country.
We're excited to see where things are headed in hospitality design. Because, truth is, they're headed in a number of different directions. Which makes it all kinds of fun for those of us who get to pick the surface designs to offer up to the industry. We see lots of variety, imaginative spaces and a continued push toward ever greater design complexity and sophistication.
Sure, many of the examples we give here are our products, but the trends apply to the whole spectrum of surfacing options.
Rustics, reclaimed and industrial chic —
I had a designer tell me just last week that she was "so over" industrial chic. I could see that only if you limited the options to a moment in time. But restaurants and hotels are continuing to claim forgotten spaces and creating their own "raw" interiors that combine repurposed elements and pure, rustic themes. The staying power is in the warmth of the environments, the smart use of resources, and the enormous variety of design possibilities. The trend continues to evolve as designers get more and more creative. From a materials standpoint, the options are seemingly endless!
Decorative surfaces are heeding the call, with highly realistic designs that capture the spirit without sacrificing the barn, so to speak — or the budget. Our recently introduced Papa's Loft design for TFL is a prime example. Reclaimed, weathered and perfect for everything from counter faces to headboards to architectural walls. Or check out Jackson Barn and Jackson Buff. The concrete-inspired Skyline series of Skyline Dawn, Skyline Dusk and Skyline Dark is turning heads, too.
Elegance is back.
Call it Hollywood glamour or the New Elegance, rich, sophisticated interiors have made a comeback. Lush fabrics and ballgown-worthy interiors are made all the more vibrant with surfaces that embody the intensity of the space. Arclin's Cambridge Classic design evokes hand-hewn surfaces you might've found in, say, an estate library a century ago.
Modern reimagined.
What might've once been called "transitional" design — a blend of old and new — is now taking on new life as modern interiors are infused with a variety of styles, interpretations, materials and inspiration. Imagine paring this fresh Stinson Trail design with an animal patterned fabric or a nature-themed interior (it does take its name from a path through Muir Woods to Stinson Beach!). At the same time, Cambridge Bronze transitions well from classic to contemporary when you use its bold features to make a statement. Lines aren't so clearly drawn anymore, which gives us a lot of freedom to reimagine spaces.
Global inspirations.
Bohemian, Mediterranean, Italianate, French Provincial…we've long experienced their style inspirations in the environments we frequent. Designers are now combining styles and materials in single interiors to evoke a sense of worldly adventure. Can't imagine how a simple surface structure could contribute? Think again. Jackson Barn and Jackson Buff took us mentally to vast prairies and towering mountains. We're introducing an entire globally-inspired selection of designs later this year, with designs that conjure thoughts of Cambodian temples, Middle Eastern ports of call and fog-enshrouded bridges.
No boundaries.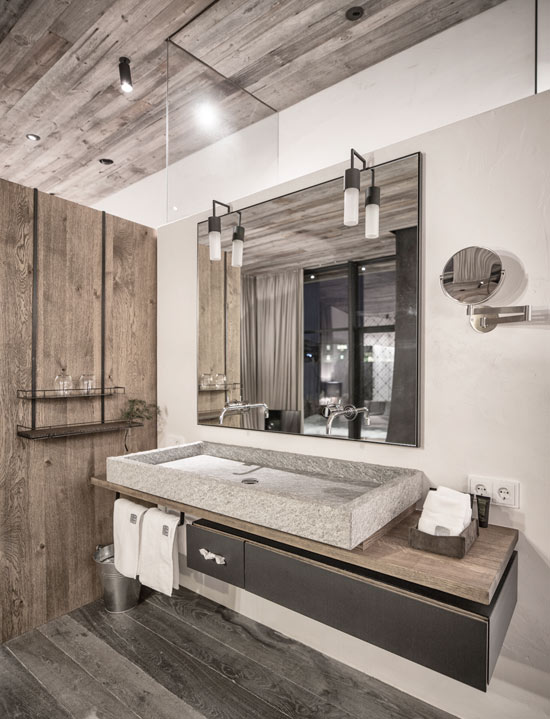 One of the things we've always loved about creating designs for decorative surfaces is that we're not bound by the same laws of nature that define solid woods, veneers or stone. If you can imagine it, we can create it. Concrete textures with a hint of woodgrain. The feeling of wide planks that aren't really planks at all. A color play that can turn an abstract neutral into a sleek metallic. The ability to craft surfaces from virtually any material we can get our hands on, "playing" until we get just the right look. Hospitality spaces work hard to create experiences, to comfort and to inspire. Decorative surfaces can be the perfect solution when the creative sky is the limit.
What surfacing trends are you seeing in your commercial and residential design? Share with us on Facebook.